Fig is an edible fruit that belongs to the Moraceae family. Widely grown around the world, this fruit is often used in desserts. With its fruit, tree, leaves, and milk, the fig has been considered sacred in many cultures and beliefs. It has been seen as a symbol of existence, life, wisdom, fertility, and enlightenment.
An example of this is that fig leaves were considered an honorable gift by the ancient Greeks. The Olympic winners were given fig fruit to eat and their heads were crowned with fig leaves, and the fig tree meant excessive fertility.
The ancient Romans also valued the fig and ensured the spread of the fig throughout the empire in the Mediterranean. In Roman mythology, Romulus and Remus (the founders of the city of Rome according to mythology) were born under a fig tree and were "fed by a she-wolf under a fig tree whose fruits hang down to the ground".
FIGS IN ASIAN PHILOSOPHY
If we go to Asia, in the "Mahabharata Epic" of the Indians, the God of Gods Vishnu is a sacred "fig tree". In the Far East, the fig tree is a symbol of religious knowledge and immortality. However, what is meant here is immortality, not a long life, but a meaningful life. In China, immortality can only be achieved through knowledge and morality.
It is known that Siddarta Guata received the inspiration that formed the basis of Buddhism while sitting under the fig tree. Buddha tries everything. A rich and enjoyable life, philosophy, yoga… Nothing satisfies him. He sits and contemplates under a fig tree and becomes enlightened under this tree.
For this reason, the fig tree has been used as a symbol in Buddhist art ever since. Fig trees are frequently featured in Buddhist temples and paintings.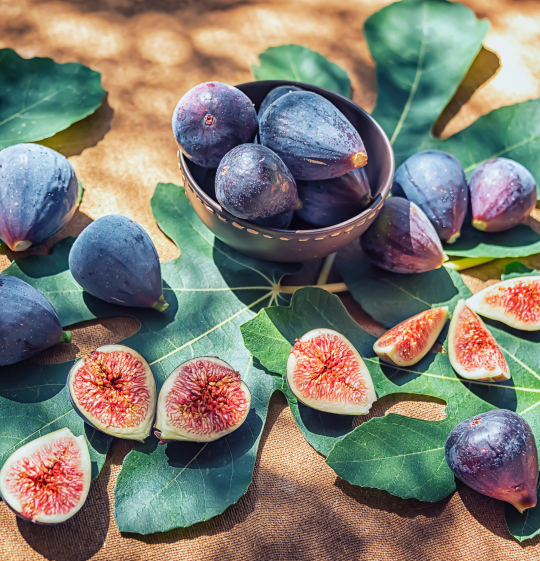 THE FIG AND MONOTHEISTIC RELIGIONS
Fig has an important place in the monotheistic religions of the Middle East. The Old Testament describes the lands that the Jewish community envisioned and that God favored them: "Observe the commands of the Lord your God, walking in obedience to him and revering him. For the Lord your God is bringing you into a good land-a land with brooks, streams, and deep springs gushing out into the valleys and hills; a land with wheat and barley, vines and fig trees, pomegranates, olive oil, and honey." (Deuteronomy 6-8)
The fig, which is mentioned as a tree in the gardens of paradise in the Bible and considered sacred, is the indispensable food of Christmas celebrations. An "oath" has been made on the fig, which is known as the "fruit of heaven" in the Qur'an. According to some narrations, Hz. Muhammad said: "Eat even a little fig. Because if I had said a fruit that was sent down from heaven, I would have said that that fruit was a fig. For the fruits of paradise have no seeds."
HOW TO CONSUME DRIED FIGS?
You can eat dried figs as they are for a healthy and delicious snack between and before meals. To make it even better, you can add nutty flavors by putting walnuts, hazelnuts or almonds inside it to enhance the flavor.
Another option is to use them in savory and sweet recipes for an earthy kick.
For example, try pairing dried figs with goat cheese and caramelized onions for an outstanding treat! You can also use it in making breads, cakes, and biscuits, or you can chop it into rice dishes and serve it with meat.
Eating figs for breakfast is also a very good option for your health overall. You can prepare your favorite cereal by mixing Iskele Dried Figs with muesli, cereal, or oatmeal.
Have you ever tried ashura before? Ashura is a dessert made with a mixture of grains, fruits, dried fruits, and nuts. According to Islam, making this dessert, which is widely consumed in the Balkans, the Middle East and the Caucasus, at certain times of the year and giving it to people is a righteous act. Figs are one of the dried fruits that are used to sweeten ashura. With Iskele Dried Figs, you can try any recipe for ashura you want and let your guests enjoy this unique flavor.
You can use the Iskele Dried Figs by softening them in a little hot water and slicing them thinly.